Chain Blocks / Lever Lifts
We are a Columbus McKinnon distributor and can supply the full Yale and Pfaff Silberblau product suite.
Common features across the ranges include:
High quality materials ensure light weight without infringing reliability.
Low own weight, small mounting sizes and small lever force at full load.
Top and bottom hooks are fitted with safety latches as standard.
The load chain can be pulled freely and easily through the hoist in both directions to attach the load or to tension the chain.
Drop forged steel suspension and load hooks are heat treated and fracture resistant.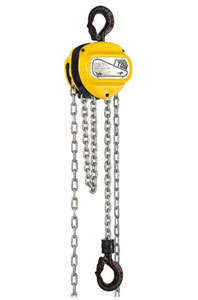 Electric Chain Hoists
The robust construction of CM's electric chain hoists make them versatile tools for industrial applications. With a 50% duty cycle, two year warranty (excluding wearing parts) and a life time lubricated gearbox, these hoists represent excellent value.