Hand Pallet Trucks/Electric Pallet Trucks
We can provide top quality, full specification material handling equipment made to the latest designs and standards. Their robust build to give many years of fault-free service. Suitable for all types of warehouse, industrial and agricultural use.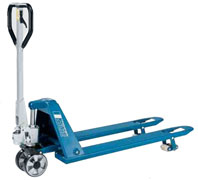 Load Moving Skates
These three point loading systems comprise of a steerable front and a pair of adjustable rear skates that are supplied complete and ready to use. Designed for the professional load mover, this system has been developed over a number of years to ensure ease of operation and maximum safety.